Can you tell us about Dalton Pharma Services and the products and services the company offers to the pharmaceutical industry?
Dalton Pharma Services is a Health Canada approved and FDA registered GMP contract service provider of integrated chemistry, drug development and manufacturing services to the pharmaceutical and biotechnology industries. We bring over 30 years of experience to our clients' projects with an emphasis on quality, speed and flexibility. Dalton can accelerate your Drug Discovery and Development Program by integrating its formulation and process development, API manufacturing and solid or sterile finish dose manufacturing, and Quality Control/Assurance capabilities all at a single centralized location.
Our full range of in-house services include but are not limited to drug discovery, medicinal chemistry, flow chemistry, custom synthesis, formulation development, process development, cGMP API manufacturing, cGMP sterile fill/finish and aseptic liquid and powder filling. With on-site GMP fill finish capabilities for both sterile liquid and sterile powder presentations, Dalton can meet your needs for GMP injectable products.
Our goal is to be your ultimate resource for chemistry, drug development, API and solid or sterile finish dose manufacturing services. Integrating our services allows Dalton to respond and adapt to the different stages of your drug development program in a cost-effective and timely manner. To learn more visit www.dalton.com.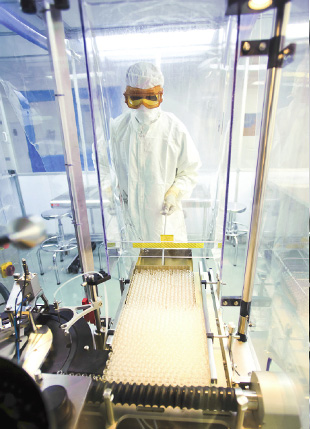 The relationship between CROs/CMOs and their clients is an important one. What specific programs or strategies have you implemented to ensure that your workplace provides the best possible environment for both your staff and your current and future clients?
Creating a culture in which employees are valued and a work-life balance is encouraged has been key to Dalton's success. It has played a major role in attracting and retaining talented people from around the world, and has been critical in our ability to provide exceptional expertise to our clients.
We have strived to create an environment that fosters a culture of work-life balance, recognition of individual contributions and passion to achieve desired outcomes for our clients' projects. Of the many benefits that we offer, flexible work schedules, health and wellness programs, training, continued education assistance, and team building events allow our employees to perform their job efficiently while managing life.
Many projects we undertake are multifaceted and require exceptional levels of creativity and collaboration. An employee culture of hard work and passion is essential to ensure projects are completed on time and on budget without compromising quality.
Dalton's evaluation of new hires and their fit into our key positive cultural values, in conjunction with the re-recruiting of our people into internal positions to continuously grow their career, while maintaining technical continuity, has resulted in our low voluntary turnover rate and project success for Dalton and its clients.
Taking into consideration your facilities, expertise, and services, why should a pharmaceutical company choose your services over another company's? What benefits do you provide to a potential customer that other companies don't?
Dalton's full range of integrated services (from formulation/process development to API and solid & sterile finish dose manufacturing), 30 years of expertise, emphasis on quality, reliability, speed, flexibility and a valued employee culture, all at one centralized location, are key attributes for the continued success of our accelerated Drug Development Program for our clients.
Clients have always been important to us - we are responsive, adaptable, customer focused and easy to deal with. We have delivered on many technically challenging projects within a highly regulated framework. Our success has been a combination of experience, technical skills, expertise, a creative environment and a passion to succeed. Dalton employee base is the right size to have excellent technical depth and yet not too large, avoiding slow bureaucratic tendencies.
We can move your API smoothly from inception to cGMP manufacturing through our integrated drug discovery, development and manufacturing process with reduced timelines and cost through all phases of development and manufacturing.
Our CMO 2016 and 2017 Leadership Awards in the categories of Quality, Reliability, Capabilities, Expertise, Compatibility and Development reflect our ongoing commitment to our clients, peers and the business community. We continuously strive to be the best and improve our processes.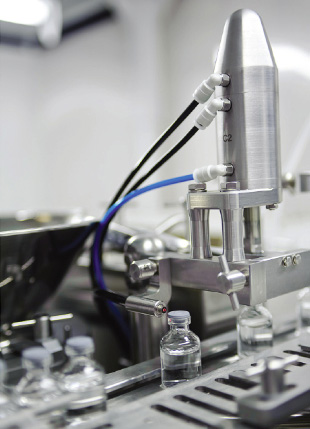 The pharmaceutical industry is increasingly becoming a global market. How can you help a pharmaceutical company that wants to manufacture a product at your facility and ship globally?
Currently 70% of Dalton's overall business is from pharmaceutical/biopharmaceutical com-panies located outside Canada, of which 80% of this foreign business is in the USA and most of the remaining 20% is in the EU and India.
As a Canadian CMO, Dalton has a great export advantage over a US CMO. This is because Canada has a mutual recognition agreement (MRA) whereby Health Canada registration of a facility allows direct export to Europe and other markets like Australia as recognized equivalent Good Manufacturing Practices.
Dalton Pharma Services is strategically located in Toronto, Canada, an international transportation hub, with direct flights to other major cities around the world including North America, Asia, and Europe.
Choosing Dalton as your Canadian CMO for global distribution of cGMP API, cGMP sterile fill/finish or aseptic liquid and powder finished products minimizes risk around ethics, culture, infrastructure support, regulatory compliance and IP protection. This increases the requirement for excellence and security of supply. Dalton benefits from Canada's enviable worldwide reputation as a reliable and stable jurisdiction for pharmaceutical manufacturing.
Looking ahead are there specific products and/or services that you will be adding to your portfolio to further enhance your company's value to current and future clients? How do you plan on improving the workplace environment you already have in place?
Dalton's workplace environment is under constant re-assessment so that we can be even better. In 2016, Dalton was certified as a Great Place to Work®, based on anonymous employee surveys by a widely respected third party organization. A major benefit of the certification process is the resulting benchmark metrics which we can use for our ongoing workplace culture improvement.
Dalton will continue to evaluate new hires and their fit into our positive cultural values in conjunction with outstanding attributes and accomplishments. Secondly, we will continue to invest in training and development to grow the talents and capabilities of new and existing staff as well as flexible work/life balance to ensure retention of valued employees to ensure a continued positive and creative work place. We are always reviewing services and capabilities that will enhance our company's value to customers. In 2016 we added flow chemistry technology to our arsenal, and we completed a $5 million expansion in sterile filling and API manufacturing to meet the global demand for sterile filling development and production. Dalton's facility expansion further enhances our integrated drug development and manufacturing process, at a single centralized location, which helps to accelerate our clients' products to market.