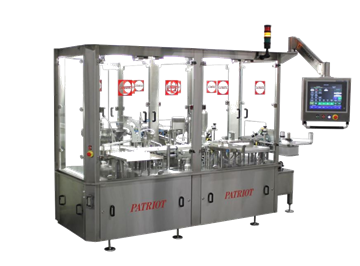 Capmatic Patriot® - Automatic Sterile Vial Filling
A crucial aspect related to pharmaceutical manufacturing and one of the final steps in the sterile manufacturing of complex pharmaceutical products, is aseptic fill/finish. Dalton`s state-of-the-art cGMP facility supports aseptic filling of biologics and sterile filling of small molecule products from clinical trial supply through to small-scale commercial manufacturing.
We have introduced a new fully automatic Sterile Vial Filling Line- our "Capmatic Patriot®" provides automated sterile filling, stoppering, crimping, capping & serialization.
Dalton`s aseptic Fill-Line Specifics:
Speeds of up to 40 BPM
Fill vials from 10mm-60mm in diameter & up to 250mm in height
In-line Nitrogen Purge System
Ink jet coding system for individual container serialization
The integration of process development, API manufacturing and finished dose manufacturing at one location can accelerate drug discovery and development programs. Our range of contract development and manufacturing capabilities include aseptic liquid fill and difficult aseptic powder fills.
Contact us for more information on our ICP-MS services.