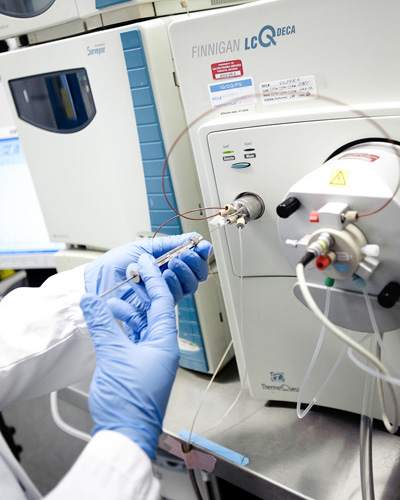 Conjugation Services
Dalton Pharma Services is a recognized leader in offering custom Conjugation Services as a tool for Drug Delivery, Targeted Drug Delivery, Synergistic Drug and Gene Delivery, or Diagnostic applications.
Dalton's technical experts function as an effective extension of your drug development team. We offer customized design & synthesis solutions for the conjugation of small molecules such as drugs, metabolites, and labelled compounds with synthetic or natural polymers for specific applications. Applying specialized analytical tools, our scientists can develop analytical methods to characterize your drug conjugates.
Our conjugation services include:
Conjugated antibodies
Conjugated polymers
Conjugated proteins
Conjugation of fluorophores
Biotin conjugation
Antibody-drug conjugate (ADC)
Polymer–drug conjugation
Polymer-drug-target ligand conjugation
Polymer–radioligand–target ligand conjugation
What is Conjugation
Conjugation is the process of covalently linking two molecules/polymers or biomolecules/biopolymers together. Conjugation of small molecule therapeutics to polymers can enhance efficacy by improving pharmacokinetic and pharmacodynamic properties by reducing plasma protein binding, reducing toxicity, or by improving stability.
Drug conjugates are being developed for a range of therapeutic indications including cardiovascular disease, acute invasive fungal infections, immune modulation, and more. Conjugation is also being explored as a means of synergistic drug and gene delivery by conjugating a drug with a cationic polymer such as PEI, which is capable of complexing with negatively charged DNA. The polyplexes formed, then release the DNA and drug molecule upon internalization into the cell.
Targeted Drug Delivery
Research is ongoing for the development of new drug delivery systems for targeted drug delivery. Equipping polymer-drug conjugates with target cell specific ligands like EGF and RGD peptides can provide a solution for selective and targeted delivery.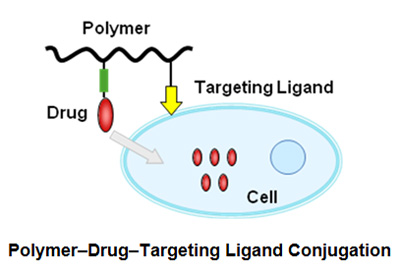 The largest class of conjugated drug products under development is the antibody-drug conjugate (ADC). Antibody-drug conjugates combine a drug with a monoclonal antibody which provides selective targeting. The drug may be released by enzymatic cleavage of the linker.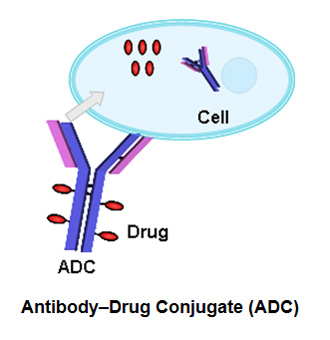 Targeted Imaging
The conjugation approach is being strategically investigated for targeted imaging to achieve a large contrast enhancement at the diseased site. Conjugation of a targeting ligand such as RGD or EPR and a radio-ligand chelator such as DOTA with a polymer has added a new dimension to diagnostic imaging (PET, MRI etc.) for targeted tumor mapping.
Flurophores
Dalton offers the conjugation of a fluorophore (e.g. labeled with fluorescein, rhodamine, biotin or avidin) with synthetic polymers or biopolymers for use as a tool in molecular biology or for the study of drug modes of action.
The Dalton Edge
Analytical
Dalton has the analytical tools and experience that are critical for this field. The analytical requirements for supporting the manufacture, testing as well as regulatory safety and efficacy of drug conjugates are technically challenging. The biological or polymeric carrier can be coupled to the drug through site-specific linking or through random linking (involving multiple sites of similar reactivity). The stoichiometry (i.e. the mean ratio of the carrier to the drug) may reasonably characterize the conjugate in the case of site-specific linking. When the linking is random, the product is not homogeneous, and the mean ratio is a reflection of the distribution of conjugate subpopulations.
The conjugation reaction may produce by-products, or may be incomplete, leaving residues of carrier, drug, and linker. Sophisticated analytical methods must be used to follow the often difficult purification steps. Sensitive analytical tools are needed to investigate stability, to characterize the end product, and to ensure batch to batch consistency.
Small Molecule and Biological Expertise
Conjugation leverages Dalton's extensive experience in both small molecules and large biopolymers. This includes synthesis, analysis, purification, cGMP manufacturing, and aseptic filling (see next section).
GMP Aseptic Filling
Conjugation products developed at Dalton can be seamlessly prepared for preclinical and early stage clinical trials in our fully integrated GMP Class 100 Aseptic Filling Manufacturing Facility. Our capability includes sterile filling of liquid-in-vial injectable drugs, aseptic filling and stoppering of liquid prefilled syringes, and aseptic filling and capping of powders. We provide our clients with full regulatory compliance support. Dalton has the capabilities to develop, create, and execute validation protocols in accordance with current Guidelines (HPFBI, U.S. FDA, EMA, ICH, WHO) and acceptable formats (prospective, retrospective, and concurrent).
Sterile Liquid Injectables: validated for 3, 5, and 20 ml vials up to 15,000 units per run.
Aseptic Powder Fill: validated for 20 ml vials up to 10,000 units per run.
How Dalton Works with Clients
In the typical arrangement, the client identifies the drug and the linkage requirement, and provides the carrier molecule. In some cases the client will provide a proprietary drug. Dalton Pharma Services obtains or synthesizes the required link, develops the linkage method, uses appropriate analytical tools to characterize the product, and works with the client to optimize the drug conjugate for the intended clinical use.