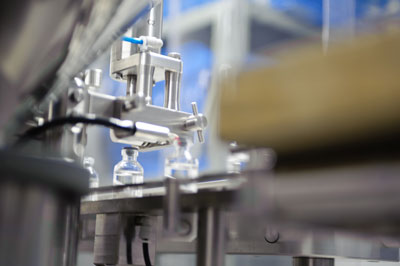 Aseptic Filling Vials - Sterile Liquid Injectables
What is Aseptic Filling?
Aseptic Filling of Vials is a processing technique where sterilized liquid products are packaged into previously sterilized containers under sterile conditions.
For example, clinical and commercial injectable are produced by aseptic fill. Injectable or parenteral products reach the body by circumventing the gastrointestinal tract, including liquid drug products such as vials, terminally sterilized drugs or aseptic fill–finish drugs.
Parenteral products are sterile preparations containing one or more active ingredients intended for administration by injection, infusion or implantation into the body. A parenteral dosage form can be presented in the form of solution, suspension, emulsion, or reconstituted lyophilized powder, suitable for administration by injection. Typical routes of administration of a parenteral dosage form include subcutaneous, intramuscular, and intravenous delivery. They are packaged in either single-dose or multi-dose containers.
Dalton Aseptic Filling Capabilities
Dalton is a leader in the sterile cGMP manufacture of aseptically filled or terminally sterilized liquid parenteral vials. With a recently expanded and upgraded cGMP sterile facility Dalton can meet your needs for clinical or small scale commercial products compliantly.
With over 15 years of aseptic manufacturing experience, Dalton has the experience and capabilities to meet your exacting requirements. We focus on quality, speed and flexibility as part of our integrated sterile manufacturing offering. Our batch sizes range from small hand fills of 100's of vials up to approximately 15,000 vials per batch.
We understand the need to conserve your valuable or rare active material, whether it is a large molecule/protein or a complex small molecule. Our filling process was designed with low fill line losses in mind.
Dalton has expanded its sterile filling capacity with a fully automated Fill-Line: CAPMATIC PATRIOT that has a speed of filling upto 40 BPM.
Our aseptic filling capabilities include:
Flexicon filling line with peristaltic pump system
Inert gas back flush capability
RABS enclosed fill line
Upgraded HEPA systems in suite
New vial washing and depyrogenation services
New WFI system
Sterile Formulation Development Services – simple and complex
We have validated a number of vial and stopper combinations including:
2 ml (Clear glass)
3 ml (Clear glass)
5 ml (Clear glass)
5 ml (Amber glass)
10 ml (Clear glass)
20 ml (Clear glass)
We also have standard sterile filter assembly combinations validated for sterile production. This means we can accelerate your project and minimize the validation required for your sterile project while maintaining compliance and minimizing costs. Dalton can also carry out ICH stability programs of your clinical batches to support your CMC filing requirements.
For further details visit Stability-Services.