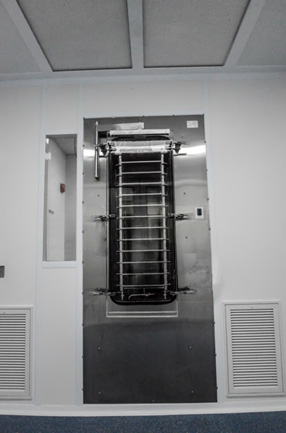 Lyophilization Services
What is Lyophilization?
Lyophilization also known as freeze-drying is a process of isolating a solid substance from solution by freezing the solution and evaporating under vacuum.
Optimizing lyophilization cycle times and improving stability for complex injectables is a critical component of parenteral product development.
The process of freeze-drying injectable drugs stabilizes compounds so they can be reconstituted just prior to administration. This process can protect biological activity, extend shelf life, and even increase dosing precision. It is also convenient for storage and transport of the product.
Our Lyophilization Capabilities
Dalton Pharma Services offers cGMP aseptic formulation, fill and lyophilization services to manufacture sterile lyophilized bulk APIs as well as Drug Products in vials. We also offer QC support for your product development and manufacture.
Dalton uses its upgraded sterile filling room to aseptically fill the vials and then transfers them to our fully programmable cGMP lyophilizer. Our lyophilization batch sizes can range from 6936 vials (2 ml vial configuration) to 680 vials (20ml vial configuration) employing a Virtis 50L Ultra EL Freeze Dryer with 23 square feet of usable shelf space and 50L total condenser capacity. Click here for more information on our sterile lyophilized vials.
We can tray-lyophilize small kilo batches of sterile APIs, which can then be filled into bulk sterile containers (bottles, bags or pouches). Alternatively, we can use the sterile powders produced in aseptic milling and powder filling processes.
Our technical experts can support lyophilization of small molecules, carbohydrates, proteins, peptides, antibodies, and nucleic acids; either bulk or vialed with expertise in formulation, cycle development and cGMP production.