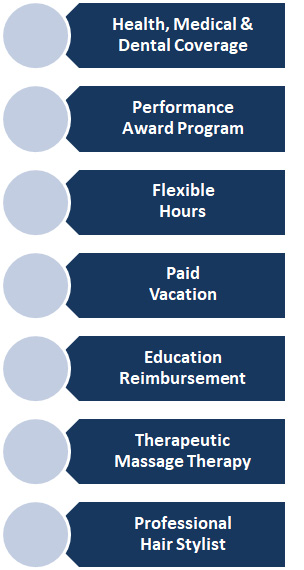 Benefits
This is an exciting time to be part of Dalton Pharma Services. New opportunities are opening up as the company grows. We are a versatile company providing a full suite of state-of-the-art services. To take us where we want to go, we need creative and energetic people who can keep us ahead of our competitors.
Dalton Pharma Services offers a highly competitive package of benefits and working conditions, which includes comprehensive health care coverage, medical plan, dental plan, and personal travel insurance. When you arrive at Dalton, you'll find out all you need to know about our benefits.
Training Program
Dalton believes in promoting continuous learning and personal growth for all staff members. Thus, Dalton will frequently conduct a training session on a range of different subjects.
Education Assistance
The Company believes that it is good business practice to help you realize your potential and encourages you to enroll in accredited educational institutions or special training courses designed to improve your on-the-job performance or to prepare you for greater responsibilities. Accordingly, the Company may provide financial assistance for education, which relates to either your personal or professional growth, and will provide a benefit to you and the Company as your career progresses at Dalton.
Computer Purchase Plan
The Company will help to buy you a personal computer, with a maximum payback period of 12 months, up to a maximum of $2,000.00. This plan is available to employees after one year of employment.
Hiring Incentive
As you know, it is extremely difficult to find good staff in today's labor market, especially with our need for high quality technical or administrative staff. With all our present employees, Dalton has made an investment in careful selection and extensive training, and has seen that investment pay off with personal successes and the Company's successes. As the Company continues to grow, good capable people in many fields will be required. If a Dalton employee knows of someone who may fit one of our available positions, and the individual is hired, Dalton will give the employee a "Finder's Fee" of $500.00 that will be paid to them after the probation period of 6 months.
RRSP Contributions
In an effort to assist staff in saving for their future, the Company has made source deduction RRSP available to interested employees. These monthly deductions will come directly off your paycheck. You decide how much or how little you would like to invest, as well as the terms you would like to invest under. After you have been employed with the company for one year, Dalton will match your RRSP contribution to a maximum of $600.00 per year (or $50.00 per month).
Wellness
Wellness is a continuous process of becoming aware of different areas in your life and making choices that will help you attain a higher level of health and well-being. Dalton Pharma Services promotes wellness and individual responsibility for maintaining good health. We focus on the education of employees, which include the importance of creating a balance in the physical, social, emotional, and spiritual, in all dimensions of life. One of our many ways of promoting Wellness is through our many programs we have in place such as having guest speakers come in and do workshops on Stress Management, Nutrition, Heart Disease, Ergonomics and many more.
Therapeutic Massage Therapy
We all experience the lasting beneficial results from therapeutic massage treatment. Dalton feels that it is an important part of preventative or rehabilitative health care. Dalton has Qualified Registered Massage Therapist (RMT) come in every other week to provide therapeutic massage treatment to our employees.
Professional Hair Stylist
Dalton acknowledges that we all lead busy lives and may not have the time to do the simplest things as getting a HAIRCUT. Time is important to everyone, which is why Dalton is has a Top Professional Hair Stylist to come in one day a month to do haircuts for their employees.
Attendance Award Program
In recognition of employees with exceptional attendance record, the Company has an Attendance Award Program. An employee with zero time lost in the year (May 1st - April 30th) is recognized for his/her perfect attendance.
Team Building Events
Team Building activities at Dalton are designed to motivate, to make individuals realize that they have shared goals, and that by working together they can accomplish more than they ever thought they could. We help them break down interpersonal barriers and preconceived ideas and they'll have the time of their lives doing it. Our employees will come back to work with more confidence, more willing to share creative ideas, more able to complete difficult tasks and to anticipate - and cope with - change and unfamiliar situations.