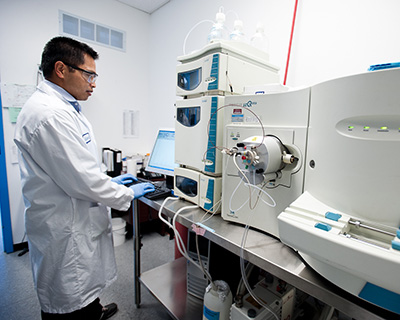 Contract Analytical Testing Laboratory
Whether it is for routine analytical release testing or the development of challenging or specialized analytical methods for your large or small molecule, Dalton's team of highly experienced analytical chemists use up-to-date, compliant laboratory infrastructure to meet your quality standards. By integrating analytical method development and validation services with API and dosage form manufacturing, we reduce turnaround times for your drug development program and achieve key milestones faster.
Dalton's comprehensive analytical services support our integrated services including drug discovery, drug development, process development, contract cGMP API synthesis, and cGMP finished dose manufacturing. Our on-site microbiology services lab is part of our complete analytical service offering.
Analytical Laboratory
Our Analytical Services area was architecturally designed to house a wide array of analytical equipment. The analytical lab supports the cGMP manufacturing services with analytical method development services, method validations, raw material release testing, in-process testing, finished product release testing as well as stability testing. Dalton utilizes current industry standard equipment including HPLC, GC, LC-MS, SEC-MALS, KF and others to support our customer requirements.
Our contract analytical lab services include:
Chiral analysis (HPLC and GC) and preparative HPLC chiral chromatographic separations allowing detailed characterization of a diverse range of pharmaceutical, biopharmaceutical and synthetic chiral compounds
Raw Material / Finished Product Testing (including cytotoxic material)
Reference Standards Certification
Physical and Wet Chemical Analysis
Process and Cleaning Validations
Container / Packaging Testing
Thin Layer Chromatography (TLC)
Organic Volatile Impurities (OVI)
Arsenic
Melting Point
Residue on Ignition (ROI)
Loss on Drying (LOD)
Elemental Analysis (EA)
Some of the analytical equipment we use for large and small molecule analysis includes:
LC-MS (Liquid chromatography mass spectrometry) - LCQ Classic, LCQ Duo with Electrospray Ionizer (ESI), LCQ Deca
HPLC

DAD – Diode Array Detector (UV)
Variable Wavelength UV Detector
Conductivity Detection
Fluorescence Detection
Evaporative Light Scattering Detection (ELSD)

GC (Gas Chromatography)

Flame Ionization Detector (FID)
Thermal Conductivity Detector (TCD)
Headspace techniques (USP-OVI)

Spectroscopy UV / Visible
Infrared (FTIR)
Particle Size Analysis
Polarimetry
Osmolality
Oxygen Headspace Analyzer
Differential Scanning Calorimetry (DSC)
KF (Volumetric & Coulometric)
pH