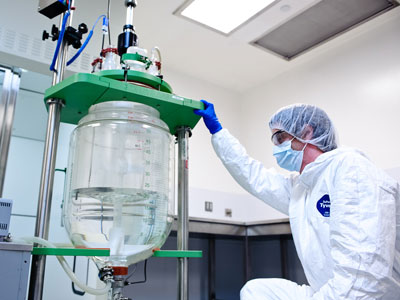 cGMP API Manufacturing
Dalton is a leader in the development and manufacture of complex cGMP Active Pharmaceutical Ingredients (APIs). Our skilled scientists and recently updated and renovated cGMP development and manufacturing facility support the Drug Discovery process through API Synthesis for all stages of pre-clinical and clinical trials as well as small scale commercial manufacturing.
We conduct cGMP manufacturing of API's from grams to multi-kilos. Our R&D and cGMP manufacturing areas can support reactor sizes up to 300L.
Custom Synthesis of Small Molecules and biopolymers is carried out in our modern cGMP API manufacturing facility. Our two clean API suites are rated at Class 10,000 (Class C).
We are currently involved in the small scale cGMP contract manufacturing of active pharmaceutical ingredients in many drug classes. Many of the APIs we currently manufacture started with us as a Contract Research Project or as Custom Synthesis Projects. Our integrated services allow our customers to move their API products from inception all the way through to cGMP manufacturing all in one company. Dalton brings more than 30 years of chemistry experience to all API synthesis projects and we ensure cGMP compliance with our rigorous quality systems.
API Synthesis and Process Validation
At Dalton Quality and Compliance are very important to us. We pay special attention to equipment qualification and process validation and provide full regulatory support for our cGMP API manufacturing clients. We follow the strictest guidelines, perform the most rigorous testing and execute studies in a timely fashion to ensure that your product is of the highest quality when it reaches its destination.
Dalton can develop, create and execute validation protocols and studies required for your products and equipment in accordance with current Guidelines (U.S. FDA, Health Canada (HPFBI), EMA, ICH, WHO) and acceptable formats (prospective, retrospective and concurrent). These include process validation, cleaning validation, aseptic processing, terminal sterilization, environmental control, IQ/OQ/PQ/PV and utility qualifications. Statistical analysis and decision making analysis are also part of our service.
We can accelerate your Drug Development Program by integrating process development, cGMP API manufacturing and finish dose manufacturing all at a single location.