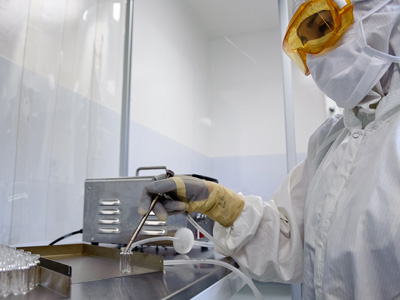 Sterile Powder Filling in Vials
What is Sterile Powder Filling?
A processing technique where sterilized Injectable Powder Products are packaged into previously sterilized containers under sterile conditions to produce shelf-stable products.
Injectable Powder Products are automatically dispensed into a sterile container, allowing for continuous monitoring of the production process. All Injectable Powder Product contact surfaces are usually sterilised by irradiation or by autoclaving, vials are depyrogenated, filled, stoppered and sealed. Automated dosing improves reliability, minimizing waste.
Dalton Sterile Powder Filling Capabilities
We specializes in cGMP sterile powder filling into vials. Our unique capability allows us to fill neat sterile powders with suitable flow characteristics into vials in a Class A (100) environment. Whether you start with a sterile API or need us to perform a sterile recrystallization, Dalton can aseptically fill your sterile powders into vials meeting USP accuracy requirements. We have filled sterile powders into a variety of vial sizes ranging from 3 ml to 20 ml, as well as into novel containers such as Hyclone PowderTainers.
For small scale sterile powder fills we use a cGMP M&O Perry LM-14 filling system capable of filling 8mg to gram quantities of sterile powders into vials. This process is suitable for clinical scale manufacturing and batch sizes up to 3,500 vials.
The speed and reproducibility of the fill is largely dependent on the flow characteristics of the sterile powder. Dalton can run a small R&D trial to ensure your powder is ideal for this aseptic filling approach before any further investment is made.
For small to intermediate fills of powders with 100% check weight, we have a semi-automated powder filling system capable of filling from 0.1 mg up to 8 grams. This system can be used for low bioburden fills into vials which can be terminally sterilized. This equipment extends Dalton's capability to meet the needs of our clients for powder filling. Our recently upgraded sterile processing and cGMP manufacturing suites also allow us to support your injectable drug development program using current regulatory and compliance standards.