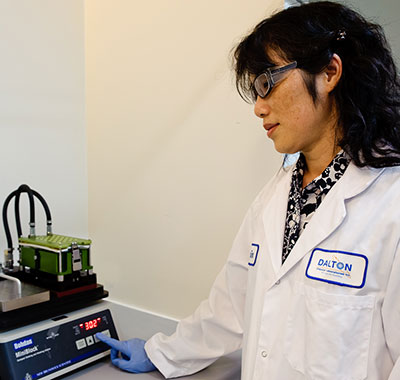 Microbiology Services
As an integrated manufacturer of API and finished dose products, including sterile injectables, we understand the critical importance of reliable microbiology testing services. Dalton offers a full range of microbiology testing services to support every product need.
Dalton Pharma Services offers the following Microbiological Services:
Bioburden Analysis
Environmental Monitoring
Microscopic Procedures
Water Testing
Bacterial Endotoxin Testing
Bacterial Retention Validation
Particulate Matter
Sterility Testing
Microbiology Services Laboratory
This 350 square foot (32.5 square meter) laboratory accommodates the necessary staff and equipment to support Dalton's rigorous environmental monitoring program for the GMP area. Biological safety cabinets and incubators are used for on-site bioburden testing, microbial identification and environmental monitoring of the cGMP area.