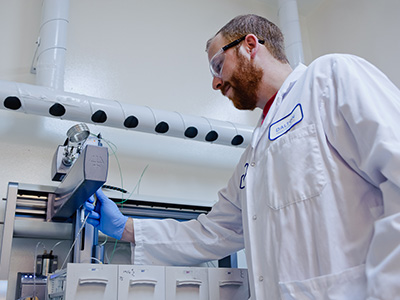 Formulation Development Services
Pre-formulation Development
At Dalton Pharma Services we recognize the importance of our clients' requirement to develop robust and compliant formulations. Starting with comprehensive pre-formulation services, Dalton helps its customers to determine optimal dosage forms they can use for preclinical or clinical applications. With our analytical development services supporting our preformulation work, Dalton can perform full physico-chemical characterization using modern analytical techniques in-house for rapid turnaround times.
Dalton evaluates and determines a variety of parameters to help you arrive at the right formulation using your API.
These may include:
Solubility of API in different media and solvents
Excipient compatibility studies
Dissolution of the active pharmaceutical ingredient (API)
Accelerated Stability Services under various conditions
Solid state analysis (polymorphs, particle size, particle shape etc.)
Formulation Development
Dalton has the right equipment, facilities and highly dedicated formulation development specialists to help you arrive at the optimal dosage form for your API and application. We ensure any forms we develop are scalable, compliant and commercializable for our customers.
We can formulate a wide range of sterile and non-sterile dosage forms including:
Oral Immediate Release – Solutions, Emulsions, Suspensions and Capsules
Oral Controlled Release – Matrix based release, Multi-particulate systems, Polymer Film Coatings, pH Dependent Release
Topical and Transdermals – Gels, Creams, Ointments, Lotions
Sterile Liquids – Solutions, Suspensions, Colloids, Liposomes
Powders – Sterile and non-sterile powder filling
Sterile liquid dosage formulations (ophthalmic, oral, nasal)
Injectable drugs (intravenous, and intramuscular, subcutaneous injectables)
Lyophilized formulations
Formulation Services and Capabilities
Formulation development for new chemical entities (NCE)
Optimization of existing formulations
Product/Process Optimization
Novel formulations for improved delivery of existing dosage forms
Controlled release and sustained release formulations
Self-emulsifying drug delivery systems
Colloidal drug delivery systems
Sub-micron and nano-emulsions
Feasibility Studies
Excipient Compatibility selection and optimization
Physico-Chemical Testing
Process Scale-Up
Technology Transfers
Batch manufacture
Our expert formulation development group overcomes difficult formulation challenges in a rapid and cost effective manner. Our formulation development services can be utilized independently or with our fully integrated services to accelerate your drug development program.