TORONTO June 30th, 2020
Dalton Pharma Services (Dalton), a leading North-American contract drug manufacturing organization, is proud to announce that our organization has been named on the 2020 list of Best Workplaces in Ontario.
Dalton received this honour after a thorough and independent analysis conducted by Great Place to Work®. The list is based on direct feedback from employees of the hundreds of organizations that were surveyed by Great Place to Work®. The data has a 90% confidence and a +/- 5% margin of error.
To be eligible for this list, organizations must be Great Place to Work Certified™ in the past year, be headquartered in Ontario and have at least 10 employees working in the province that participated in our Trust Index employee survey. Great Place to Work determined the best based the overall Trust Index score from these employees.
"Receiving our fifth Great Place to Work award demonstrates the deep connection our leadership has with our employees. Dalton's leaders and employees form a team of individuals from diverse backgrounds, and Dalton's tremendous growth can be attributed to their contributions. Our employees are our biggest strength, and by providing a workplace where individuals can grow and thrive, we will unlock the potential of our employees. One team. One goal. A healthier world." Said Peter Pekos, Dalton's CEO.
Dalton has a long history with Great Place to Work®. Dalton has been certified a Great Place to Work since 2016 and earlier this year was recognized on the 2020 List of Best Workplaces™ for Women.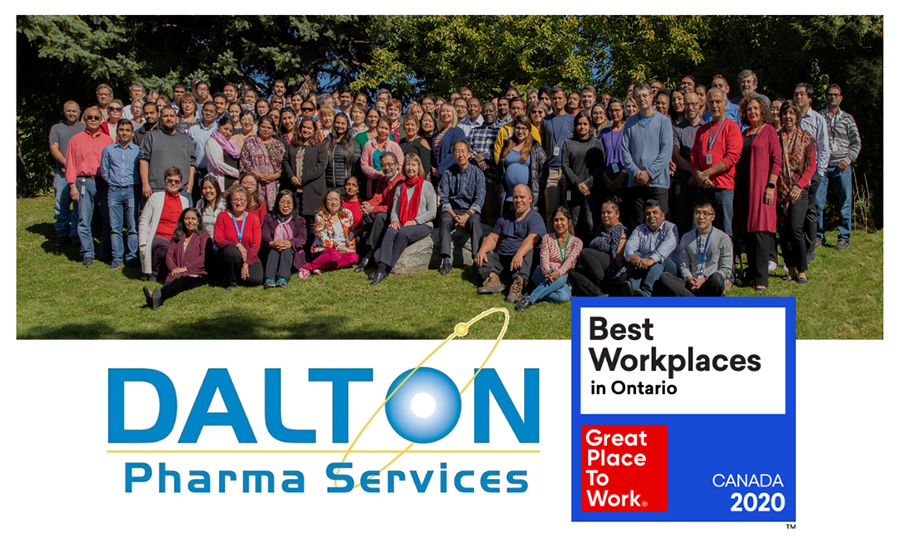 Dalton Pharma Services is excited to be a part of the COVID-19 response team along with the global drug development community to help create novel medicines for these troubled times. During these challenging and uncertain times, our staff has displayed a tremendous level of courage, determination and resilience; we thank you. Dalton is a leading North American cGMP pharmaceutical organization providing integrated drug discovery, development and manufacturing services. We are FDA inspected and Health Canada approved and bring over 30 years of experience to every project. We deliver fully integrated solutions with an emphasis on speed, flexibility and quality. Our integrated services (drug discovery formulation and process development, custom synthesis, cGMP sterile fill/finish of liquids and powders, cGMP API manufacturing and/or dosage form manufacturing and Accelerated Stability Testing) all at one location helps us to be adaptable, flexible and cost-effective.
To learn more about our history and capabilities, please visit: dalton.com or find us on LinkedIn.
Great Place to Work is the global authority on high-trust, high-performance workplace cultures. Through proprietary assessment tools, advisory services, and certification programs, GPTW recognizes the world's Best Workplaces in a series of national lists including those published by The Globe & Mail (Canada) and Fortune magazine (USA). Great Place to Work provides the benchmarks, framework, and expertise needed to create, sustain, and recognize outstanding workplace cultures.
Visit us at www.greatplacetowork.ca or find us on Twitter at @GPTW_Canada.
Media contacts:
Peter Pekos
CEO
Dalton Pharma Services
349 Wildcat Road
Toronto, Ontario
Tel: 416-661-2102