TORONTO: (Sep 10, 2018) As a part of a 10 million dollar facility and capital expansion, Dalton Pharma Services, a leading North American contract research, development & manufacturing organization has invested in a fully automated Sterile Liquid Filling System that will become operational in Q1 of 2019.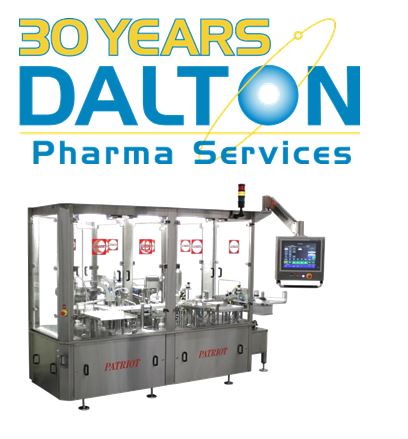 The new fill line allows larger batch sizes (~40 BPM), a broader range of filling volumes and container closure systems. It also provides nitrogen purging and individual bottle serialization.
This is the next step in Dalton's continued facility and service improvements to meet increasing clients` requirements to shorten lead times and scale up from clinical batches to small scale commercial production.
"The flexibility and aseptic assurance that this new fill-line provides will enable Dalton to extend services beyond the current clinical stage and accelerate the development of clients` sterile drug products to reach the market, faster." said Peter Pekos, CEO and President, Dalton Pharma Services.
About Dalton Pharma Services:
Dalton Pharma Services is a leading North American cGMP pharmaceutical organization providing integrated drug discovery, development and manufacturing services. We are FDA registered and Health Canada approved and bring over 30 years of experience to every project. We deliver fully integrated solutions with an emphasis on speed, flexibility and quality. Our integrated services (drug discovery, formulation and process development, custom synthesis, cGMP sterile fill/finish of liquids and powders, cGMP API manufacturing and/or dosage form manufacturing and Accelerated Stability Testing) all at one location helps us to be adaptable, flexible and cost-effective.
To learn more about our history and capabilities, please visit http://www.dalton.com.
Peter Pekos
President & CEO
Dalton Pharma Services
349 Wildcat Road
Toronto, Ontario
Tel: 416-661-2102