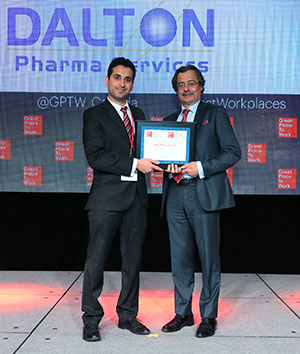 TORONTO: (May 10, 2018) Dalton Pharma Services has been recognized as one of the Top 50 Best Workplaces™ in Canada in 2018, making its mark amongst Canadian leaders, innovators and visionaries. The award was presented by Great Place to Work®, a global research and consulting firm and published as a Special National Report in The Globe and Mail on April 27, 2018.
This award reinforces Dalton's commitment to creating a workplace based on high-trust and high-performance culture. For over 30 years, we have been dedicated to developing a vibrant & award-winning culture where every employee is valued while professional and personal development is encouraged.
Dalton`s management team prides itself on receiving this distinguished recognition and take place among Canadian leaders and innovators.
"Our corporate culture is a product of the cumulative traits of the great people we have attracted and retained over the years. Dalton's success is the result of how we value our employees and encourage work-life balance," explained Peter Pekos, President and CEO.
"This has helped instill the passion essential to providing exceptional expertise for our customer needs. Our staff share an inspiring "CAN DO" attitude and a desire to support the pharmaceutical industry in developing life-saving medicines."
About Dalton Pharma Services:
Dalton Pharma Services is a leading North American cGMP pharmaceutical organization providing integrated drug discovery, development and manufacturing services. We are FDA registered and Health Canada approved and bring over 30 years of experience to every project. We deliver fully integrated solutions with an emphasis on speed, flexibility and quality. Our integrated services (drug discovery,formulation and process development, custom synthesis,cGMP sterile fill/finish of liquids and powders, cGMP API manufacturing and/or dosage form manufacturing and Accelerated Stability Testing) all at one location helps us to be adaptable, flexible and cost-effective.
To learn more about our history and capabilities, please visit https://www.dalton.com.
Peter Pekos
President & CEO
Dalton Pharma Services
349 Wildcat Road
Toronto, Ontario
Tel: 416-661-2102